OH!MAYBE YOU LOOKING FOR 2006 Sanic game?
2006 Sanic is More Slower Version of Sanic.He look like Sanic but he more blue and have more tiny eyes.He appeared in game sanic 06 and 2006 sanic. And it is no surprise that he likes to use his magical flying pink toilet.He SLOWWWWWWWWWWWWWWWW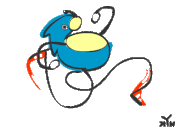 Ad blocker interference detected!
Wikia is a free-to-use site that makes money from advertising. We have a modified experience for viewers using ad blockers

Wikia is not accessible if you've made further modifications. Remove the custom ad blocker rule(s) and the page will load as expected.