"Fung, can we keep the Bunny Wabbit?"
BOIN LE DINOMIGHT

Origins

Creation Date
Unknown

Physical attributes

Colour
Lime
Abilities
Killing others,
Aliases
Saurofaganakusu, Boin

Appearances

Game Appearances
Sanic le Foightas
TV Show Appearances
Unknown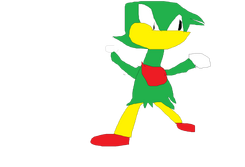 Boin talking to Fung about keeping Creme za Wabbit.
"No Boin, We already have enough with you and Burc"
Fung declines the offer, kind of hypocritical as he does try to keep Mureen as a pet, or a girlfriend, we do not know, but they get along.
Boin le Dinomight is a duck that forgot that he is no longer a Saurophaganax, he is now a duck. He is the explosive side of Time Holigawn, and Burcs foster son, . Boin is a Terrorist, always shouting Kidzuku nan kibu before killing somebody, he wants Fung to notice he killed someone, every time, which is annoying. When Time Holigawn were dinosaurs, He was a Saurophaganax, he still thinks he is. Boin is only 11