HOLD ON!!!!!!! DON'T GET YOUR SANICS IN A TWIST!!!!!!!!!!!!!!!!!
Dolan Duck
is a psychotic, sadistic duck who is the star of the Uncle Dolan Show. He loves torturing his friends and enemies. Sanic and everybody else on the planet despises him. He is powerful enough to defeat even the universe-busting Galaxia Ultima and even... NOOOOO!!!!!!!!! NOT SAWNEEK!!!!!!!!!!!!!! It's true. He really did beat Sawneek the Weegeehog. He is also one of the few beings who survived a Falcon Punch from Sawneek. Dolan later joined the Robuttnik Army along with Spoderman.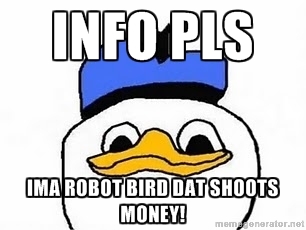 Ad blocker interference detected!
Wikia is a free-to-use site that makes money from advertising. We have a modified experience for viewers using ad blockers

Wikia is not accessible if you've made further modifications. Remove the custom ad blocker rule(s) and the page will load as expected.