Sanic 06 is a first person exploration Sanic game made by PeePodd. The game features many types of Sanic's, as well as Knackles, Ame Roes, Shedow, and Dr. Aggmen.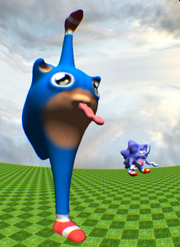 The game is only on PC and is compatible with Oculus Rift, but not required.
GRAB AND GO FAST! or CHECK OUT THE FACEBOOK!
Here is 2006 Sanic first appearence
Ad blocker interference detected!
Wikia is a free-to-use site that makes money from advertising. We have a modified experience for viewers using ad blockers

Wikia is not accessible if you've made further modifications. Remove the custom ad blocker rule(s) and the page will load as expected.