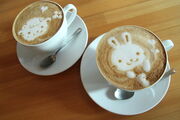 Hi, guys and gals! What's up today? Ain't it kinda snowy outside your window?
I'm Mr. Spike, and I've been working quite hard on improving the articles on this FAST WIKI! Gotta go fast, guys! Still a lotta spelling errors and stubby articles to fix up with my magical word power! And creativity too!
Please help out, guys, and please spruce up on your writing skills. And happy Valentine's day coming up in Feburary! Let's celebrate! WOO! (as I sip up a cuppa hot chocolate at the Lor Starcutter.) 
~Sincerly, Spiky Hair Dude~
Ad blocker interference detected!
Wikia is a free-to-use site that makes money from advertising. We have a modified experience for viewers using ad blockers

Wikia is not accessible if you've made further modifications. Remove the custom ad blocker rule(s) and the page will load as expected.